This post was written by Kristen Abell.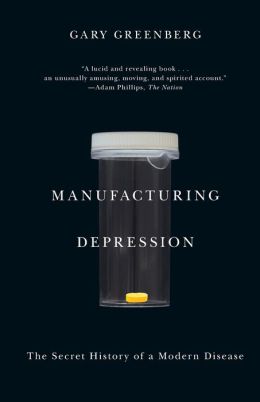 I'll be honest – this is a hard book to review.  In fact, I've been stumbling through this review all week – how much of it should be about me and my own struggles with depression? How much should be about the book? Because in reading this book, I can't just separate the two.
Yes, I struggle with depression, and it made Manufacturing Depression that much harder to read – as well as that much more relevant. The author's premise is that psychologists, psychiatrists, psychotherapists, and all the other psych folks, as well as the pharmaceutical companies have made depression into a disease from which every other person in America (and beyond) suffers. In reality, we have to acknowledge that life is not easy – nor is it meant to be. There are difficult times, we have been in a recession, the overall health of Americans has declined – should we not all be experiencing some of the symptoms of depression if we're rooted in reality? Are we trying to make being happy all the time the norm when really we all experience periods of sadness or grief?
Having read another of Gary Greenberg's books – The Book of Woe – I've questioned this idea of what is normal before. It had me asking myself if my depression was something I truly experienced or a fabrication of societal expectations of my mood (I know, whoa – that's like totally existential or something). Were people expecting me to be more happy than I really needed to be?
This also has me thinking of what we expect of our students – do we push our expectations of what is good and right and proper onto them and then wonder why they don't fit? Do we work too hard to make them fit? Or are we simply providing them with experience of how it will be once they graduate?
Although this book was a little dry (with waaaaay too many psychs in there for me to continue caring), it definitely had me thinking and posed some great questions about how culture plays a role in mental health. There's also some great room for reflection on the role of mental health in student affairs. If this is a topic of interest for you, I'd definitely give it a skim. Or maybe just watch a video of the author speaking about it.
Have you done any reading on this topic? Have any books to recommend? Please share – I'd love to hear your thoughts.
Sound like something you want to read? Check it out on Amazon.
---